Under cabinet lighting can be used for more than just lighting up the ambiance in your kitchen. When you purchase an under cabinet lighting kit that comes with LED light bars and features an adhesive application and modular, linkable design, the under cabinet lights can be used in a wide variety of locations around your home. Got a dark closet? Light it up! Have a home office area? Add some task lighting! Stub your toe in a late-night bathroom trip? Use some LEDs under the nightstand! All you need is an outlet and an imagination! Read on for 10 ideas on where in your home you can use under cabinet lighting that's not actually under your cabinets.
Laundry Room
Install LED light bars under laundry room cabinets to illuminate your workspace as you fold clothes, treat stains, or separate colors! If your laundry room doesn't get much natural daylight, these under cabinet lights are perfect for assisting you while you get your laundry done. Maybe with a laundry room that's lit up as nicely as this one, you'll be more likely to do laundry on a regular basis!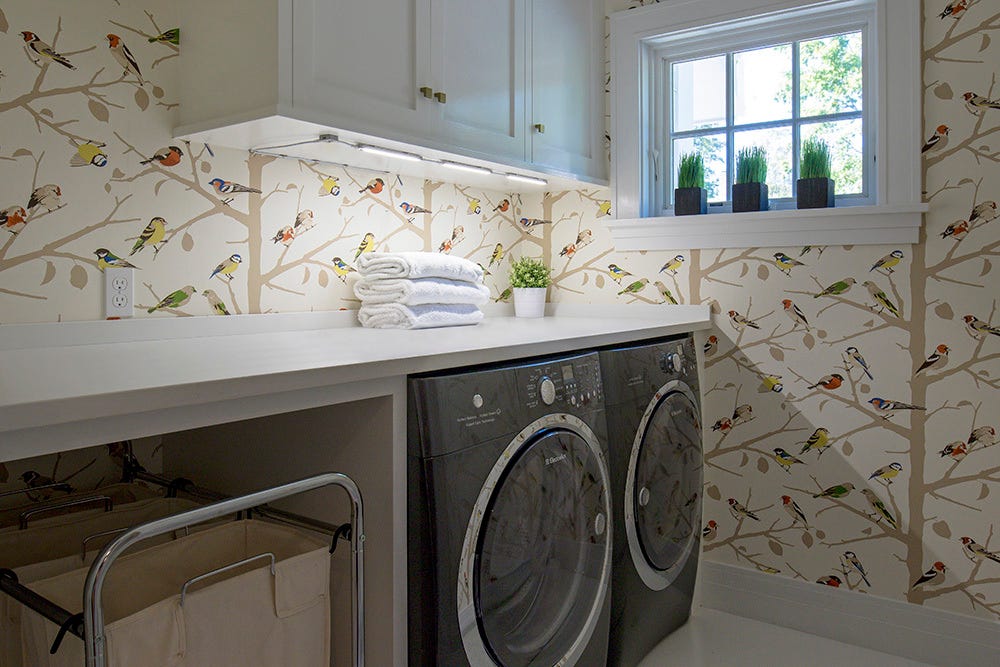 Coffee Bar
Are you an early bird who gets up before the sunrise? Do you like to start your day with a fresh cup of coffee? Try adding the 1-bar LED lighting kit for a warm white color effect to start your mornings off right while you sip your morning coffee. It's even perfect for lighting up the coffee bar at night when you relax with some coffee, your friends, and some dessert.
Bar Area
Under cabinet lighting doesn't just have to be used beneath your cabinets. Install them below your at-home bar area to add a soft ambiance to your cocktail hour. You can even use the 3 bar color-changing LED lights to change the mood of the room. You can even throw a fun party in your kitchen or living room with the different modes of the color-changing lights such as flashing or strobing!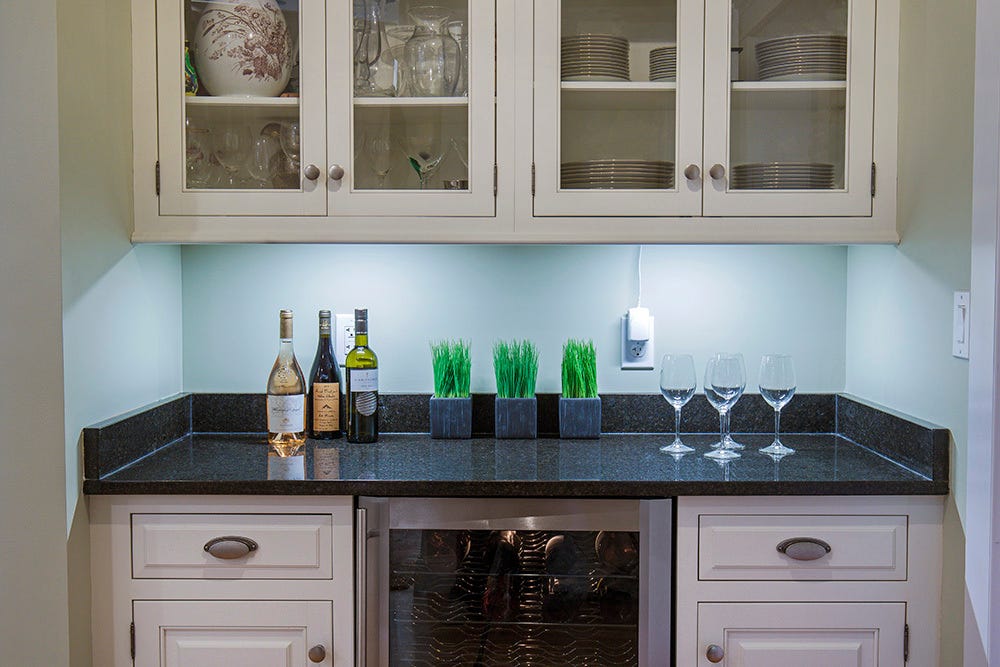 The kitchen is the center of the household where family and friends go to congregate, but often the space can be a bit too sleek and minimal. Adding under cabinet lighting underneath your peninsula or island creates a beautiful glow that makes the space feel warm and inviting. It can also make for a romantic night at home that can make any kitchen feel like a date!
Place LED light bars on top of cabinetry or beams in your home that point up to create up-lighting that is so much more appealing than accent lighting. With the right lumen light bars, such as the 18" 1-bar LED lighting kit that are high in lumens and efficacy, you can illuminate an entire room with soft, flicker-free lighting!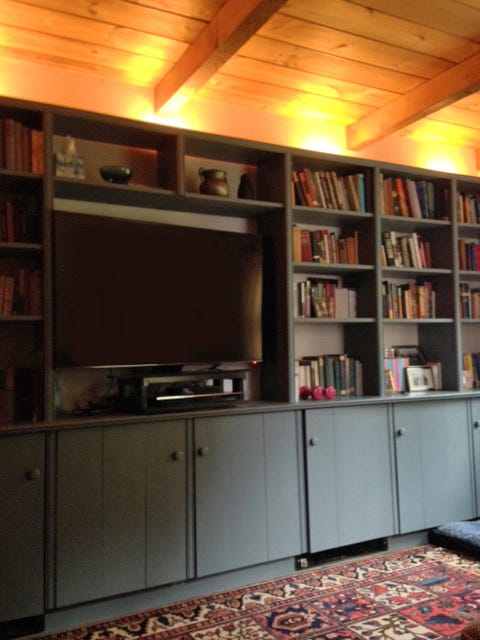 Do you like to have your friends over for frequent movie nights? What about cuddling with your family and pets while you watch your favorite TV shows? The lighting of a chandelier or overhead lights can sometimes give off too much light while you're trying to relax on the couch after a long day. Install the LED warm lights behind your TV for just the right amount of lighting to help you enjoy your favorite movies and TV shows.
Usually there isn't much to be done to spice up a bathroom in your home other than adding a coat of paint, a new shower curtain, or maybe some new fixtures (and who wants to go through the trouble?). However, by adding motion sensor LED light bars under your bathroom vanity, you can change the whole look and feel of your bathroom in under five minutes. The under cabinet lights create an inviting and invigorating glow that serves as both accent and room lighting. The motion sensor makes them easy to turn on and off with just the wave of your foot. Plus, these lights make for perfect night lights for late night bathroom trips!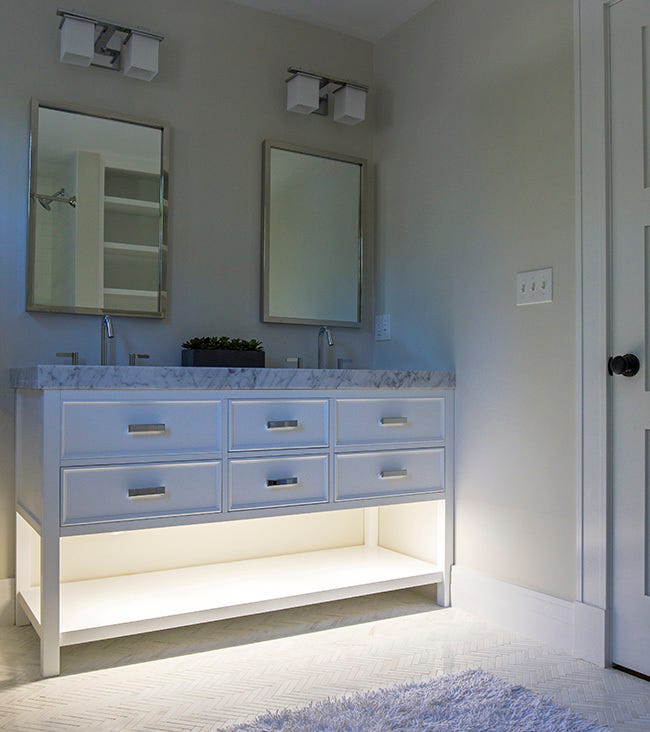 If your closets don't have built in lights, it can be hard to find just what you're looking for without taking everything off the hanger or off the shelves. By installing under cabinet lights to your closets, you can find what you're looking for with more efficiency and in a faster manner, without the mess!
Whether you work from home full-time or just browse Facebook and answer emails, a home office needs to be comfortable, efficient, and appealing. Adding LED lights under a desk hutch or credenza not only makes the space look much nicer, but also provides the appropriate lighting needed to work by! Try under cabinet lights in a natural daylight color temperature at 5000 Kelvins, as it's said to improve mood and boost productivity and efficiency! Talk about a perfect task light!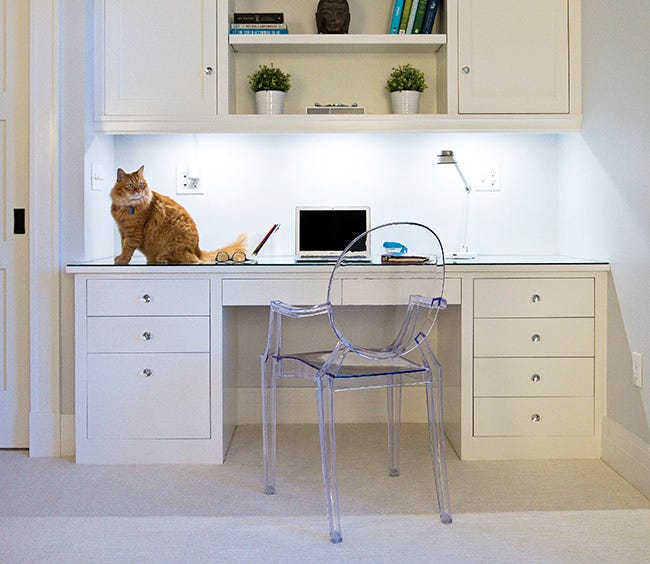 If you have trophies or collectables that you are proud of and want to display shelf around your house, add some LED lights to the shelves that will make your display case stand out even more. Under cabinet lights are the perfect addition to your display shelves that will draw your friends and family's attention to your prized possessions!
We hope you found these 10 unexpected places for under cabinet lighting useful. Let us know what unique places you decide to give them a try!