The kitchen is most rewarding, time-consuming and expensive room in the home to renovate. Since they can become worn out and outdated rather quickly, it could be hard to dish out some major cash when wanting to give this focal point a fresh makeover. While homeowners may want to invest in specific appliances or countertops when first establishing their home, there are ways you can stick to a budget when looking to re-do the appearance of the kitchen.
Get some major inspiration on how to give your kitchen a new aesthetic with these five kitchen facelifts that won't break the bank; they're all $100 and under! The before and after pictures are shocking!
1. From Sticky to Stunning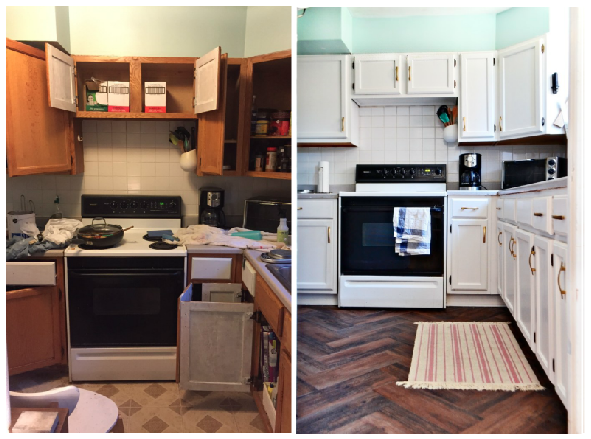 This tiny apartment kitchen facelift was done by renter and blogger Eliza who didn't want to live with a yellow, dirty kitchen any longer. Since she didn't own the space, she didn't want to invest hundreds of dollars she would never get back. If you read her blog for the full reveal, the total came out to "$100(ish)," but we're not complaining - it went from sticky and sad to sunny and stunning! The floor is our favorite part!
2. Basement Kitchen Rebrand
YouTuber Lulu Sapphire created this low-cost basement kitchen transformation on a time crunch - 24 hours! She worked with such a small space and price range that the final transformation is quite amazing. Of all the options, this kitchen facelift is probably the most attainable for those debating on a remodel but are on a time crunch. Shelving really does wonders!
3. Cabinet Refresh with Paint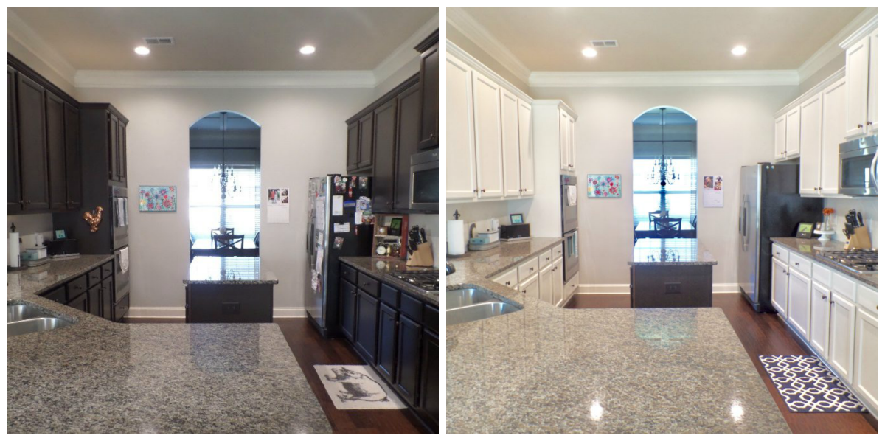 Sometimes all you need is a little paint to spruce up your kitchen. After all, cabinets are a kitchen focal point, so it makes sense that Melissa of Create and Find focused on priming and painting hers. While we saw no problems with her kitchen before, it's incredible how much more open and airy the room feels once the cabinets were painted all white. And, it was all done under $100!
4. DIY Kitchen Updates
Home improvement and DIYer Alexandra Gater is the creator of this kitchen upgrade. For those who love following along and visual step by steps, this transformation is easy to follow. It's filled with DIY projects from painting hardware and shelves for a clean, fresh look to contact paper for wallet-friendly "marble" countertops (contact paper!) Again, it's all under 100 bucks!
5. Add a Personal Touch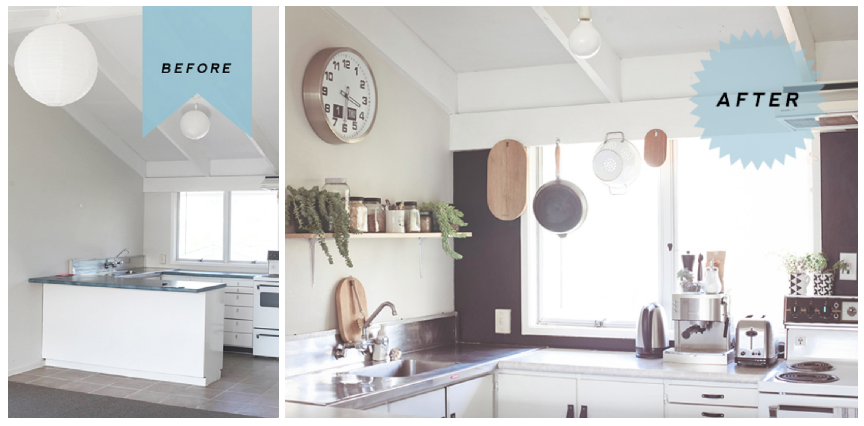 This New Zealand loft proves that a budget-friendly kitchen upgrade is possible no matter the location. Blackbird's Gemma transformed her white-washed kitchen into a chic, minimalist corner of the home. She painted the walls, changed the cabinet hardware, added a shelf and housed plants for decor. It's definitely one of our favorites as it costed her under $50!
No matter the location or time frame, giving your kitchen an upgrade is definitely possible, even with a little decorating. Just look at the five stunning kitchens above! This whole DIY era begs the question of have you ever completed a kitchen makeover on a budget? You can easily give your kitchen a quick, inexpensive facelift with our tool-free under cabinet lighting kits! Don't forget to show us your finished product so we can pine over your renovation skills!